---

OUTLOOK
The short-term drivers of market performance are not always clear, but an improving outlook toward economic growth seems to be a clear contributor to the recent rally in equities. At the same time a rapidly slowing manufacturing sector has raised concerns over the outlook for global growth, which have also been reflected in a flat yield curve. Recent data has suggested some stabilization in the global economy, with more positive signals toward U.S. growth. The outlook amongst U.S. service sector companies improved notably in October, and the October jobs report was a positive surprise. Economic forecasts driven by the shape of the yield curve have also turned more positive, as reflected in the New York Federal Reserve's recession odds model shown below. After peaking in August at a 38% probability of recession over the next twelve months, the forecast has fallen to a 29% probability. We have never believed the yield curve alone was definitive proof of impending recession, as credit markets have remained strong. In addition to improving economic sentiment, investors have also gotten more hopeful about the U.S./China trade dispute and the outlook for Brexit.

It may be the approaching 2020 U.S. election at work, but signals from U.S. and Chinese negotiators are indicating the potential for a "Phase 1" deal to be signed this year. The important component isn't the level of agreed agricultural purchases, but what happens to current and future tariffs. The elimination of pending tariff increases would seem to be a likely outcome of any Phase 1 deal, while the meaningful rollback of existing tariffs seems less likely. Brexit negotiations have developed in line with our expectations, which include an extension of the EU deadline to January 31st and a new UK election in December. Avoiding a hard Brexit has led to a rally of 5% in the British pound.
We still think the outlook for risk-taking is positive. We remain of the view that the economy will not dip into recession, and are overweight stocks and underweight bonds as we head toward 2020. Continuing the global easing cycle underway this year, the Federal Reserve cut interest rates late last month, contributing to the steepening of the yield curve. With inflationary trends still muted, central bank policy is unlikely to be a headwind to risk-taking for some time. We expect continued trade tensions and the upcoming 2020 U.S. election to keep uncertainty high, and we therefore continue to favor "lower-risk "risk assets such as U.S. equities and high-yield bonds.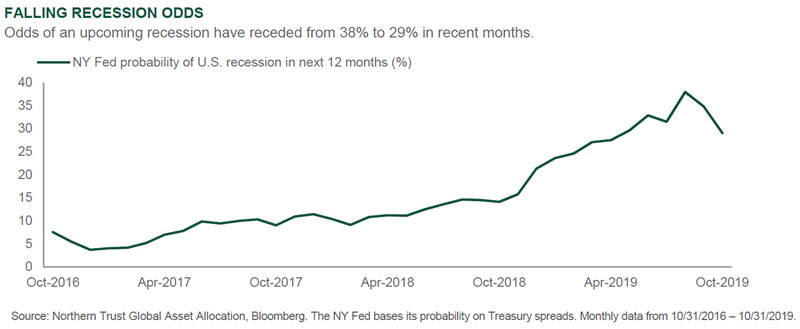 ---
INTEREST RATES
The Fed's third rate cut has finally ended the yield curve inversion.
The Fed indicates it is "on pause" pending future data.
We are underweight fixed income to fund our overweight positions in risk assets.
After three consecutive 25 basis point cuts, the Fed says it has put its rate-cutting cycle on hold. More data from the American consumer will likely be needed before policymakers will make further moves. The market's skepticism that the recent rate rally can be maintained suggests the curve steepening will continue. Furthermore, while data is mixed (manufacturing weakness vs. services strength) and investors are taking a risk-on mood, liquidity in the Treasury market is diminishing. Rather than seeing the rate cuts as providing additional stimulus to the economy, the market seems to believe the equilibrium rate has fallen and the rate cuts are an effort by the Fed to catch up with it. In the Treasury Inflation-Protected Securities (TIPS) markets, the decline in real long-term rates has been similar to the drop in real policy rates this year. It has become clear that fixed-income investors do not see the rate cuts as being able to spur growth effectively. The yield curve in the TIPS market has remained relatively unchanged, possibly due to the market being more concerned with low growth and the impact of global rates persistently remaining below zero. We have positioned our portfolios with a long duration profile, as we expect the Fed to ease further and long rates to follow slower growth, lower inflation and falling global rates.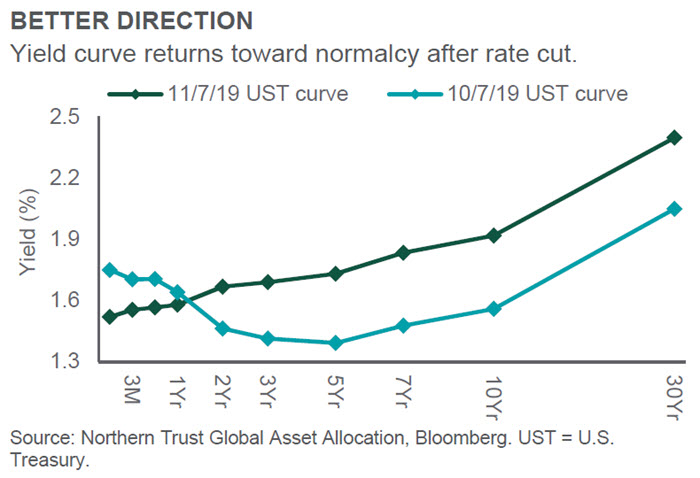 ---

CREDIT MARKETS
Increases in lower quality high-yield spreads have concerned investors
We think the increase is mostly due to the volatile energy sector.
We remain overweight high-yield bonds.
The distribution of returns across ratings in the high-yield market has become a focus of investor discussions. While the Bloomberg Barclays U.S. High Yield 2% Issuer Capped Index has returned roughly 12% YTD, market performance has continued to be driven by higher quality securities. Divergence on a spread basis between higher- and lower-quality paper is at the widest level in the past decade, driven by energy, telecommunications and healthcare. These sectors represent a material portion of the CCC market. This is important to note, because while many fear the CCC underperformance to be an economic red flag, the weakness can largely be attributed to these three sectors, notably energy. The increase in energy-related defaults and corresponding stress skews the data, so looking at the spread of rating buckets ex-energy creates a cleaner picture of the market. As the chart shows, the current spread ratio of CCC/BB ex-energy of 3.8x is significantly higher than the past decade average of 2.3x. The return differential YTD across sectors aligns with the macroeconomic narrative of much of 2019, although some of the major concerns driving this basis have abated to various degrees. A decrease in rate volatility, year-end seasonality and an improved earnings outlook should provide support for high-yield valuations.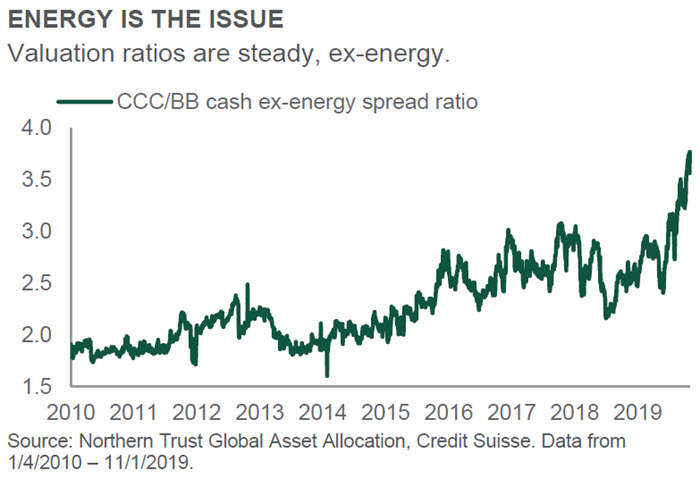 ---

EQUITIES
The outperformance in growth stocks has been materially supported by valuation expansion.
Value stocks have outperformed over the last month as cyclicals have rallied.
Due to trade concerns, we remain overweight U.S. and underweight EM stocks.
Global equities rose sharply over the last month as U.S./China relations improved, significantly reducing investor fears of downside economic risks. Non-U.S. equities outperformed, led by emerging markets (EM) and aided by a weaker U.S. dollar. In the U.S., value stocks outperformed as cyclicals sectors like financials, energy and industrials led. Defensive, yield-oriented sectors like utilities and REITs lagged by over 7% on the month. This "risk-on" rotation within equities is notable in its rarity, as value has materially underperformed growth over the past three years. This outperformance of growth in areas like technology has come less from better fundamentals – earnings growth has been remarkably similar – and more from increases in relative valuation. To illustrate, the chart shows the significant widening of the gap in P/E ratios, where growth has gone from a 15% premium-to-value three years ago to nearly 50% today. Time will tell if this change in investor appetite for cyclical value stocks will prove durable, but the dramatic widening in relative valuations suggests such a move could have further to go. More broadly, we remain constructive on U.S. equities, as lessening downside risks, accommodative Fed policy and a return to positive earnings growth in 2020 provide opportunities for additional upside.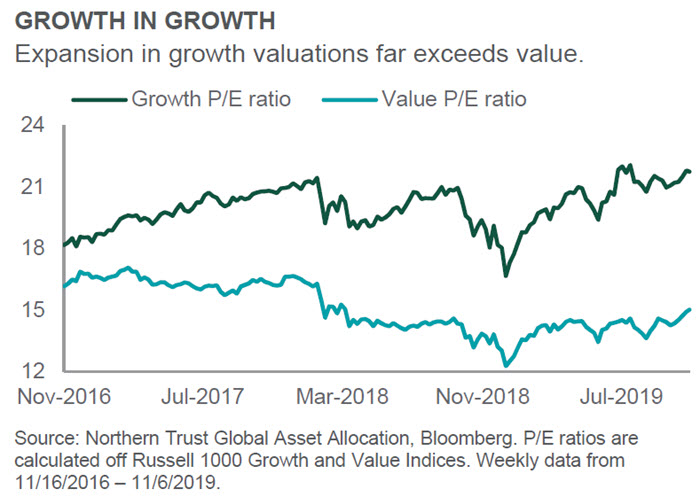 ---

REAL ASSETS
U.S. producers are forced to focus more on profitability.
U.S. output growth is likely to slow as a result.
We continue to like real assets for their diversification.
Are the winds changing in the Oil Patch? Over the past 8-10 years, U.S. oil production growth has soared (see chart) on the aggressive development of U.S. unconventional formations (in particular the Bakken, Eagle Ford and Permian). The surge in U.S. crude oil volumes was the primary factor underpinning the collapse in oil prices starting in late 2014. That production growth was facilitated by a massive surge in industry spending financed in large part by the equity and debt markets to the tune of several hundred billion dollars. However, investors who once clamored for rapid volume growth shifted course and are now demanding returns and free cash flow generation to finance dividend growth and share purchase programs. Newly imposed capital discipline (living within organic cash flow) will likely substantially slow U.S. output and remove a primary headwind to higher global oil prices. Of course, the market has to contend with known unknowns impacting (1) demand, such as recent weak economic readings and trade war fears, and (2) supply, specifically rising geopolitical risks, particularly in the Middle East.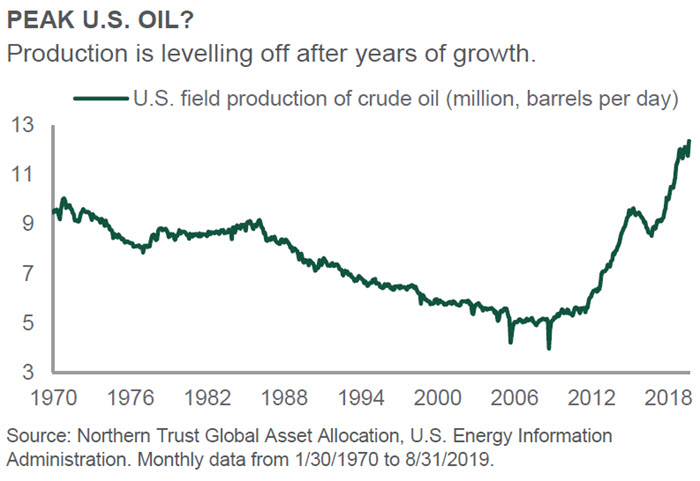 ---



-Jim McDonald, Chief Investment Strategist
---
IN EMEA AND APAC, THIS PUBLICATION IS NOT INTENDED FOR RETAIL CLIENTS
© 2019 Northern Trust Corporation.
The information contained herein is intended for use with current or prospective clients of Northern Trust Investments, Inc. The information is not intended for distribution or use by any person in any jurisdiction where such distribution would be contrary to local law or regulation. This information is obtained from sources believed to be reliable, and its accuracy and completeness are not guaranteed. Information does not constitute a recommendation of any investment strategy, is not intended as investment advice and does not take into account all the circumstances of each investor. Forward-looking statements and assumptions are Northern Trust's current estimates or expectations of future events or future results based upon proprietary research and should not be construed as an estimate or promise of results that a portfolio may achieve. Actual results could differ materially from the results indicated by this information. Investments can go down as well as up.
Northern Trust Asset Management is composed of Northern Trust Investments, Inc. Northern Trust Global Investments Limited, Northern Trust Global Investments Japan, K.K, NT Global Advisors Inc., 50 South Capital Advisors, LLC and investment personnel of The Northern Trust Company of Hong Kong Limited and The Northern Trust Company.
Issued in the United Kingdom by Northern Trust Global Investments Limited.