We believe that the most successful multi-manager investment programs follow a disciplined, four-phase process that addresses all facets of investment management. We call this four phase process DIME: Design, Implement, Monitor, Evaluate.
Four Phases of DIME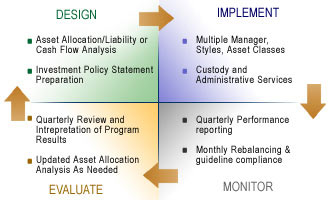 Design
An investment policy statement guides decision-making by defining the mission, return objective, attitudes toward risk, roles and responsibilities for the program. Before managers are selected, an asset allocation strategy is developed which offers the highest projected probability of meeting the program's return objective at an acceptable level of risk.
Implementation
Northern Trust believes in employing multiple investment managers, each of whom specialize in a specific asset class and investment management style. This approach provides a high degree of diversification, and provides the opportunity for superior investment performance in a variety of market conditions.
Monitoring
Quarterly performance reporting provides insights both on individual manager's appropriate benchmarks, and on total program returns versus a blended benchmark. Quarterly rebalancing to strategic asset allocation targets is performed by Northern Trust to maintain the desired overall risk profile of the investment program.
Evaluation
A Northern Trust investment manager meets with each client twice every year to review performance and to evaluate overall effectiveness of the multi-manager investment program's design in meeting the client's objectives.